How To Choose A Diamond
Choosing a loose diamond is both exciting and daunting at the same time. Just like a diamond, it is a multi-faceted process. The more you search, the more complex it becomes. It takes years of handling diamonds to become an expert. Therefore, do not be overwhelmed with the information.
Eventually, your research will give you a basic understanding, but you will have to select a jeweller that you can trust. Always remember that you can read and understand the theory behind grading a diamond, but to actually apply that theory to a real diamond takes years of expertise.
At Kalfin Jewellery, we believe the quality of a diamond is far more significant than its size. A well-cut and well-proportioned diamond will always out-sparkle a larger diamond with poor qualities.
When choosing a diamond the first thing to consider is your intended use. Is it going to be used for a diamond engagement ring, a diamond pendant, or maybe diamond earrings?
The second stage is to set the budget, which coupled with the intended use determines the selection of diamonds needed.
The 4C's need to be evaluated at this third stage. Depending on their application, the colour, clarity and carat can be manipulated to achieve the best outcome for your budget. However, the cut should never be compromised.
You may choose a smaller stone with higher grades or a larger stone with lower grades. By comparing colour, clarity and carat combinations within your budget, you can make an informed decision that fulfils your individual requirements. We always believe a good balance between size, colour and clarity will achieve a great result.
At Kalfin Jewellery, we have a minimum colour grading of G and an SI-1 (100% eye clean) clarity requirement to undertake any work. By adhering to these quality specifications and certain proportional requirements, we have always achieved outstanding results.
Other factors, such as independent certifications and the proportion grades listed on these certificates need to be taken into consideration.
In summary, we advise you to research the 4C's to get a grasp of the terminology and what each term refers to. Be clear on your intended use, design and budget.
Select a reputable jeweller or diamond expert to show and explain to you the different gradings and options using real diamonds. Make sure your diamonds are independently certified by a reputable laboratory such as GIA (Gemological Institute of America).
Pick the diamond that best suits your personal requirements and budget by a process of elimination.
Kalfin Jewellery specialises in loose diamonds and coloured gemstones. We welcome you to arrange an obligation-free consultation at our Collins Street boutique in the Melbourne CBD. Our comprehensive diamond consultation using real examples will address all your questions and doubts. With our strict company policies, you will be expertly guided to make an informed decision tailored to your individual needs. Dealing direct with the designer also ensures great value for money and guarantees your satisfaction.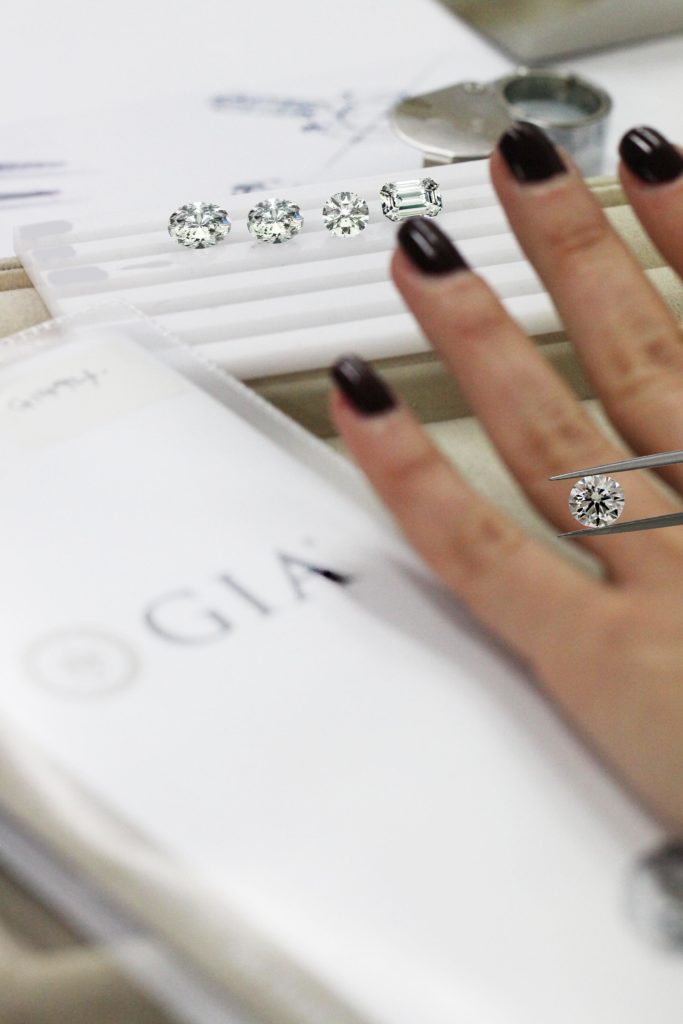 Want to learn more about Diamonds?
To schedule a consultation or simply ask a question enter your details in the form below.
"Anthony and Yasemin were amazing and helped me find a ring that suited my style.
They both have an incredible way of making you feel like their most important customer. They were great at educating me on the various aspects of diamonds which made my decision easier.
This is the only jeweler you should be going to!"
Farrah K.
"Simply outstanding customer service from start to finish!
Thank you so much Anthony for crafting such a stunningly beautiful and unique ring.  Anthony and Yasmin were an absolute pleasure to work with during the consultative process and worked within my budget.
I highly recommend Kalfin Jewellery."
Jacinta O.