Colour Gemstones
The majority of gemstones are minerals that have crystallised as a result of high levels of pressure and heat in the Earth's crust.
Although there is a large variety of minerals found on Earth, only a selection of those qualify as gemstones. Their beauty, colour and rarity are some of the properties that qualify them for selection.
Until recent times, coloured gemstones were divided into precious and semi-precious categories. This is no longer the case. Prices of gemstones have fluctuated with new varieties and increasing rarities.
Similar to diamonds, there are several properties that determine the value of a gemstone. The colour, cut, clarity and carat weight will influence both the price and quality of the gemstones. Other factors, such as whether the gemstone is treated or natural (untreated), will also impact value.
An increasing number of coloured gemstones are heat-treated to enhance their colour whilst stones like emeralds undergo an oil treatment. There is a large variety of enhancements and some are more acceptable than others.
Coloured gemstones that have undergone enhancements and treatments must be maintained with extra care.
There is a vast selection of coloured gemstones available in a selection of colours. To discover the properties of individual gemstones, follow the links provided.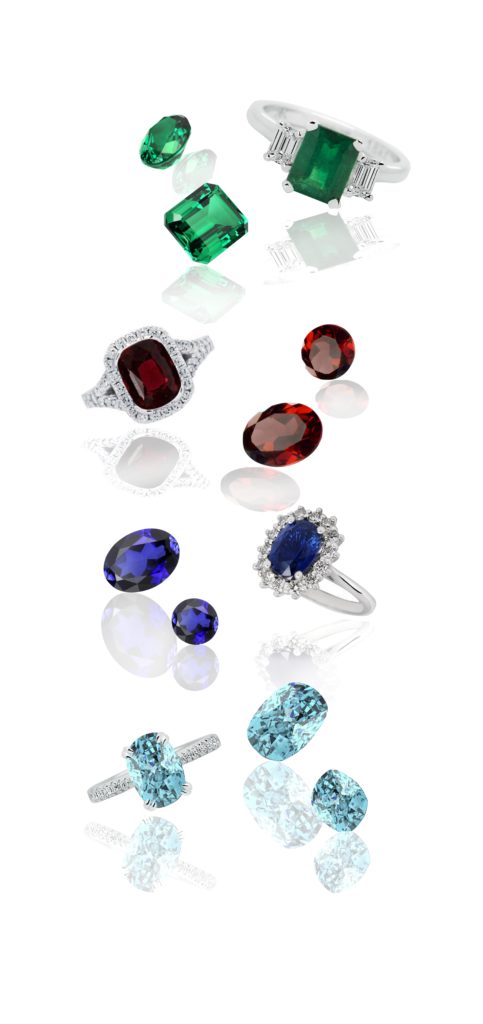 Do you want to learn more about Coloured Gemstones?
To schedule a consultation or simply ask a question enter your details in the form below.
"Anthony and Yasemin were amazing and helped me find a ring that suited my style.
They both have an incredible way of making you feel like their most important customer. They were great at educating me on the various aspects of diamonds which made my decision easier.
This is the only jeweler you should be going to!"
Farrah K.
"Simply outstanding customer service from start to finish!
Thank you so much Anthony for crafting such a stunningly beautiful and unique ring.  Anthony and Yasmin were an absolute pleasure to work with during the consultative process and worked within my budget.
I highly recommend Kalfin Jewellery."
Jacinta O.