Aquamarine
Aquamarine arouses the purity of crystal clear waters, and the excitement and relaxation of the sea. It is believed to be calming, soothing and to inspire truth and trust. In earlier times, aquamarine was believed to be the treasure of mermaids and used by sailors for good luck and protection.
The name aquamarine is derived from the Latin 'aqua-marinus', meaning "water of the sea". It refers to its sparkling ocean-like colour. This transparent blue crystal belongs to the beryl family of minerals. The colours of aquamarine range from a dark blue, slight greenish-blue, greenish-blue strong greenish-blue to a green-blue.
The most valuable aquamarines are dark blue with moderate to strong intensity.
Aquamarines are the birthstone for March and represent the 19th wedding anniversary.
Commercially, the aquamarine competes with treated blue topaz, which is much more affordable for a similar colour.
Reduced deposits of quality coloured gemstones and the demand for specific quality grades has led to the introduction of treatments. It has become common for coloured gemstones to be treated, although some processes are more acceptable than others. Aquamarines are usually heat-treated to enhance their colour.
We welcome you to view our coloured gemstone collection or to arrange an obligation-free consultation at our Collins Street boutique in the Melbourne CBD to explore your choices. Our tutorial with real loose diamonds and coloured gemstones will ensure you make an informed decision that is tailored to your specific needs. Dealing direct with the designer also ensures great value for money and guarantees your satisfaction.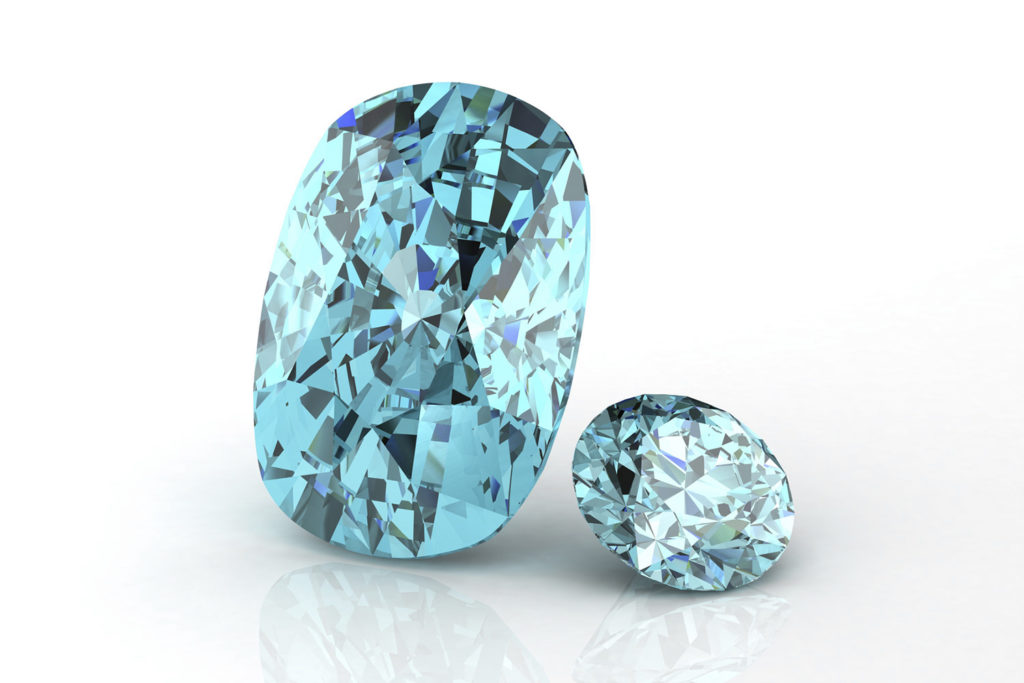 Want to learn more about Coloured Gemstones?
To schedule a consultation or simply ask a question enter your details in the form below.
"Anthony and Yasemin were amazing and helped me find a ring that suited my style.
They both have an incredible way of making you feel like their most important customer. They were great at educating me on the various aspects of diamonds which made my decision easier.
This is the only jeweler you should be going to!"
Farrah K.
"Simply outstanding customer service from start to finish!
Thank you so much Anthony for crafting such a stunningly beautiful and unique ring.  Anthony and Yasmin were an absolute pleasure to work with during the consultative process and worked within my budget.
I highly recommend Kalfin Jewellery."
Jacinta O.