Think Sapphires Only Come In Blue? Think Again. Here's Why Teal Sapphires Are A Brilliant Statement For Engagement Rings?
Posted on
Some might say that "a diamond is forever", but at Kalfin Jewellery, we say it's sapphires that are always in style.
From mythology, royalty to cinema, no precious stone has captured the public's imagination quite like these celestial-looking gems. But while sapphires might be more well-known for their deep shimmering blues (symbolising power, strength and wisdom), the fact is that these gems actually exist on a spectrum of hues, ranging from deep navy, through to pink, yellow and green.
However, when it comes to making a statement, nothing transfixes quite like teal, thanks to their multidimensional shade and arresting beauty as light reflects off their cut.
Symbolising clarity, fidelity and harmony, it's little wonder that these ocean-inspired gems have become a favourite for millennials looking to break away from tradition when it comes to engagement rings.
How Are Teal Sapphires Made?
Teal sapphires are found in Australia, Cambodia, Madagascar, Nigeria and Thailand, and are found in recrystallised limestone and metamorphic rocks. With their colour grades determined by the levels of iron or vanadium present in the rocks.
Teal sapphires are created when the stone contains an equal mix of blue and green, with a hint of yellow. With the rarest and most valuable grade of teal sapphire made of a completely equal 50/50 blue green combination.
Are Teal Sapphires Valuable?
Sapphires, like diamonds, come in a range of value and quality—from $25 through to $20,000 a carat. Although, a 1-carat sapphire will always generally cost less than a diamond due to availability in the market. Also, the general rule with sapphires is that the deeper the blue, the more valuable they are.
However— teal sapphires are highly coveted by collectors for their unique look. So when it comes to buying a quality sapphire piece of any colour, it's always best to check that the jewellery specialises in cuts that maximise the gem's hue, clarity and brilliance. This will have a great impact on your piece's value over time. Not to mention the sentimental value from years of joy.
Teal Sapphires Symbolism & Throughout History
Throughout history, the mesmerizing depth of blue sapphires has long represented protection, creativity, insight and good fortune. Ancient kings and priests once believed the earth rested on a giant sapphire, with its reflection showing in the sky at night. Perhaps it's this story that inspired Emperor Napoleon Bonaparte to procure a sapphire pear-shaped sapphire for his fiance Josephine in 1796; all we know is this ring set the benchmark for royal engagements for years to come.
These days, the more modern teal sapphires represent clarity and integrity (along with their dazzling shine) while also marking the wearer as someone willing to break with tradition.
Celebrities Who Love Teal Sapphires
Speaking of breaking from tradition, while Princess Diana wore a blinding deep blue ring for her engagement to Prince Charles, Queen Mathilde of Belgium is famous for upgrading to a teal sapphire following her wedding to Philippe I, King of the Belgians. Swapping her oval ruby ring to a teal sapphire ring flanked by half-moon diamonds in 2015.
Why We Love Teal Sapphire Engagement Rings
Due to the unique conditions required to create teal sapphires, no two are ever the same. In that sense, they're just like people. Forged through time, each with their own personality. Which is part of the reason why they're arguably one of the most popular gemstones for engagement rings after diamonds.
Teal sapphires stand in a class of their own because (when cut correctly) it doesn't matter how much yellow, green, or blue the teal sapphire has—their combination of colours always add depth to their shine.
It's part of the reason we work so hard at Kalfin Jewellery to do each gemstone justice, placing them in settings that celebrate their mysterious appearance.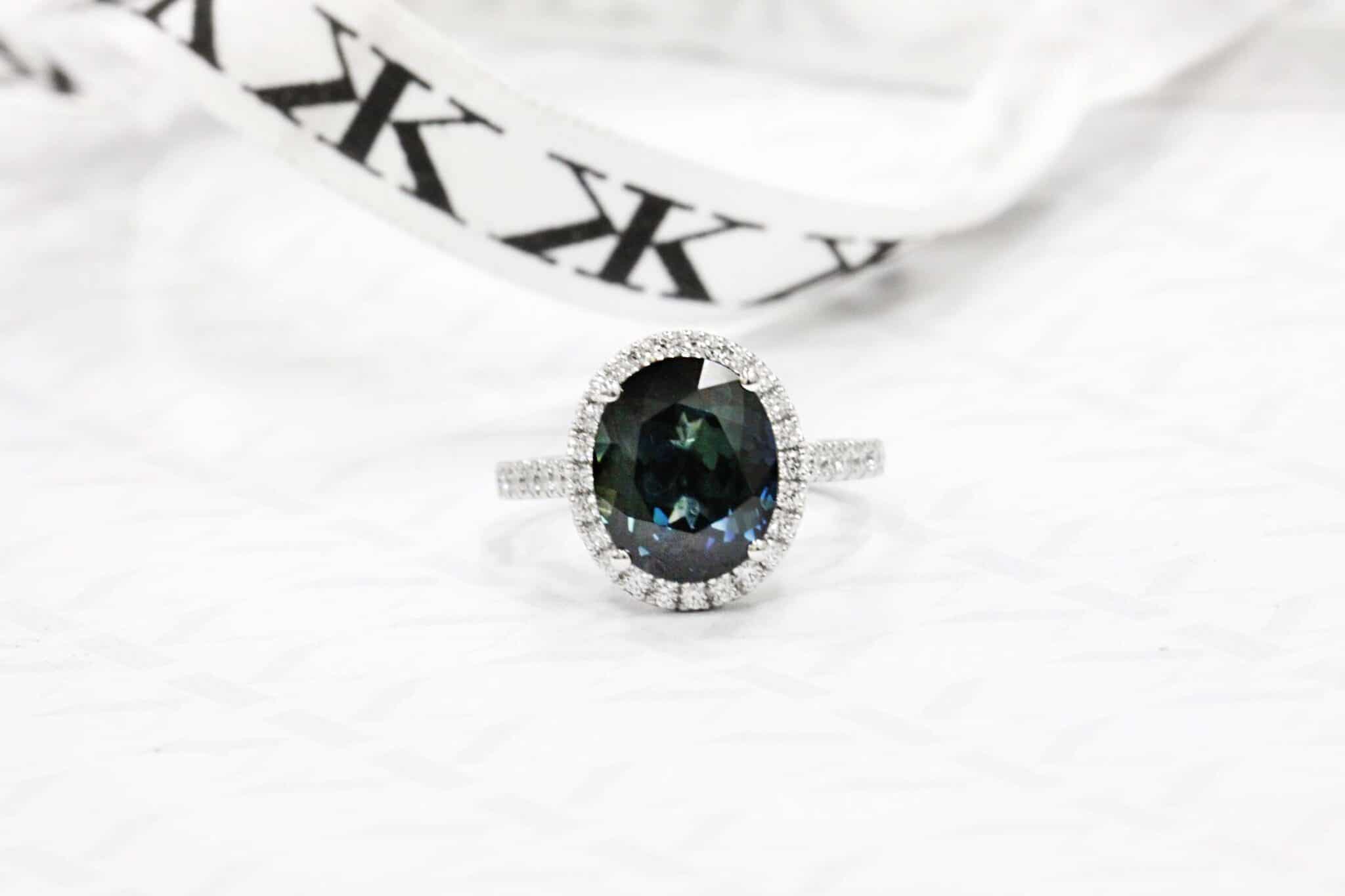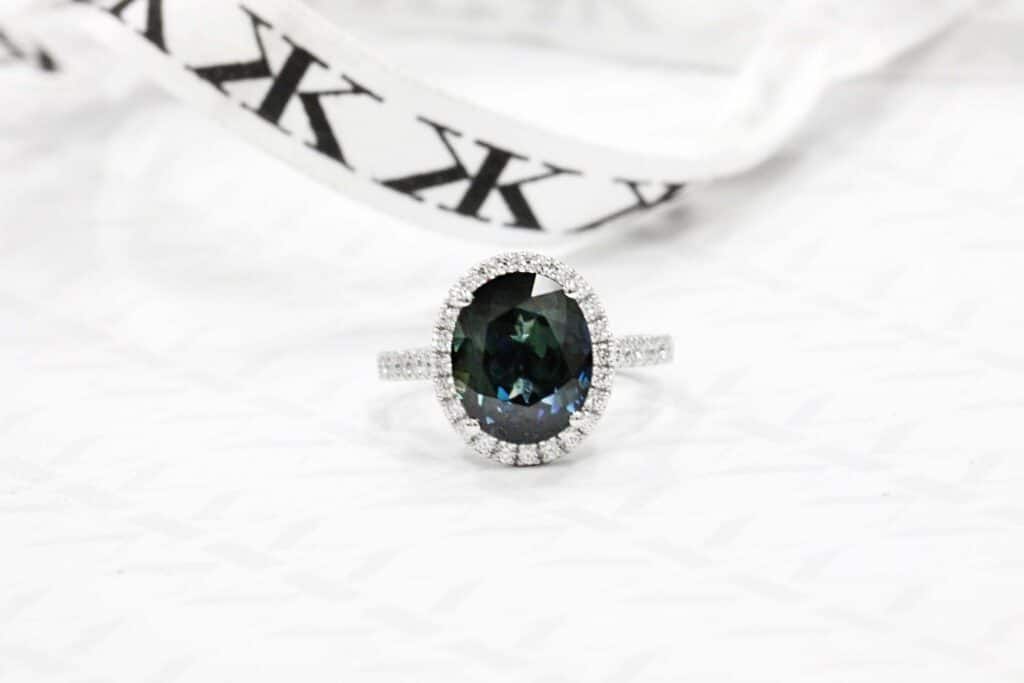 Book An Appointment
When it comes to selecting the suitable teal sapphire for your engagement ring or celebration piece, there's always more to them than meets the eye. Our expert team at Kalfin Jewellery Collins Street boutique look forward to showing you the range of beautiful gemstones we have on offer to help you make an informed decision—one you'll be happy with for a lifetime and generations to come.