Unique Engagement Rings from Melbourne's boutique Kalfin Jewellery
Posted on
It's what so many of us wait for. We start planning from the age of 5 years old and flick through magazines making a mental note that we want that dress. No, actually that dress. Or, maybe that dress…
Getting married to your significant other is one of the most anticipated moments of your lifetime, and where does it all begin? No, not that night out in your favourite bar where the details are a little fuzzy. We're talking about your engagement.
Getting engaged is joyous. It's exhilarating, exciting, scary, bewildering and a whole host of other adjectives you can find in the thesaurus. What's most important is that it is uniquely yours. So why not get an engagement ring to match?
When shopping for an engagement ring, you want it to be unapologetically you, something that will stand the test of time and you'll want to wear it forever.
A lot of the time when you think of engagement rings, a delicate diamond on a simple band probably comes to mind. Although beautiful and traditional, some people are seeking something truly unique, not often seen and more on the unconventional side.
If it is these unusual, rare designs that pique your interest, then you've come to the right place. Here at Melbourne's Kalfin Jewellery, we have an eclectic mix of ring styles that tick all of your unique engagement and wedding ring needs.
Vintage Engagement Rings
Do it as they did in the old days and take a look at the ring designs that have stood the test of time, and embrace styles from decades past.
In recent years, vintage styles have seen a resurgence in popularity, with trends from years gone by gracing the shop floor and streets once again, and more and more people choosing vintage thrift shops over Highstreet stores.
This is no different in the jewellery world. For women who want to stand out and choose something that diverges from modernity, a vintage ring is their best option.
Vintage engagement rings symbolise romance and tradition and conjure images of idyllic fairy tales and nostalgia. They represent simplicity, and speak more to the personality of the future-bride, rather than boasting wealth or being ostentatious.
With a broad range of diamonds and peculiarly shaped bands, there is a vintage ring for everyone. At Kalfin Jewellery, our collection of precious, vintage pieces ranges from our bold, green emerald encased in a square arrangement of diamonds; to the T1 wide diamond ring that is reminiscent of a cross; to our true wide rings with sharp, angular structures.
With so many styles on offer, there is a vintage style that suits everyone, giving the newly engaged an opportunity to have a piece of history sat on their finger.
Sapphire Engagement Rings
Did someone say, Princess Diana? It's hard to hear 'sapphire engagement rings' without thinking of this iconic piece of jewellery – it set the standard for these blue beauties, with Kate Middleton displaying it proudly on the world stage
If blending in is something that you strive for, a sapphire engagement ring may not be for you. They are perhaps the most unique engagement rings as there are so many varying shades of this blue, with a spectrum from delicate sky blue, to deep navy to choose from. Not only are sapphire engagement rings a stunning choice for aesthetic reasons, but you would also be making a more ethical choice were you to choose a sapphire.
These gemstones are mined in small, community-operated mines, meaning we have a clear understanding of who directly benefits from you purchasing them, as opposed to being controlled by a larger organization. Fit for a princess and ethically sourced, sapphire engagement rings can be cut to your custom style and taste, and with their highly durable structure, they will last a lifetime.
Gold Engagement Rings
It's rare that you find a woman that wears both gold and silver jewellery. It seems that, at an early stage of your jewellery-wearing life, we women tend to pick a side and never venture away, forming a signature jewellery style and preference.
Whilst silver or white gold engagement rings have seen a surge in popularity in recent years, it was yellow gold rings that were once the trend and the standard band for engagement rings. Now they connote a more traditional, elegant look.
Gold engagement rings best suit people that gravitate towards warmer, romantic tones as opposed to cooler hues that come with a white gold or silver band.
Rose Gold Engagement Rings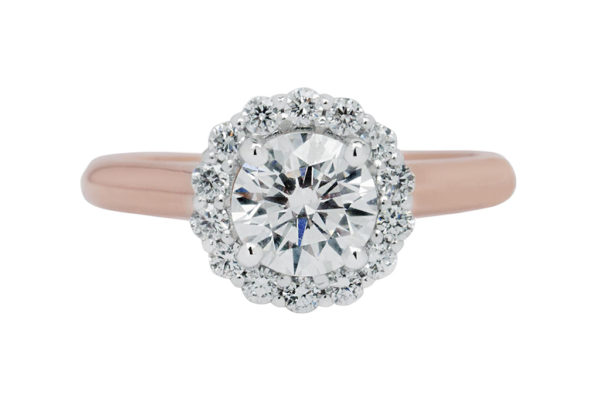 Although rose gold may seem relatively young in the family of engagement rings, it was actually popular at the turn of the century and is now a hugely popular choice for young women.
The unique colour of these bands is probably behind its revival in popularity, consisting of 75% gold, a little bit of copper and even less silver, giving it that pinky hue that stands proud against the traditional gold and silver bands, and is considerably more elegant than bronze.
Choosing rose gold in your engagement ring design is also incredibly complimentary to vintage styles, as the warm tones connote nostalgia and sentimentality. Despite this, it is a modern trend, making it a chameleon as it adapts to styles across time.
For the brides-to-be out there that can't resist sparkle, rose gold makes the perfect backdrop for those twinkling diamonds, which are set apart from this understated band.
If a unique engagement ring is an absolute must for you, Kalfin's Jewellery has made the decision-making process easier (although there's nothing easy about picking the perfect ring), by providing you with an amazing level of support and customer service. Whether it is vintage, sapphire, gold or rose gold, you will know the right ring when you lay your eyes on it, and fall in love all over again.
Kalfin Jewellery can create your perfect engagement ring, no matter what you have in mind. Contact us today