Trending Engagement Rings in 2021
Posted on
This year came with a lot of surprises, but for couples who chose to move in together to brave quarantine and realised that they really liked cohabitation, some of those surprises were very positive. Whether your timeframe was interrupted or expedited by the events of this year, there will likely be many people shopping for engagement rings and wedding rings in Australia this coming year.
How to find the right engagement ring in 2021?
Finding the perfect diamond wedding ring may feel like quite a lot of pressure, and of course, something you want to get right. So, we have developed a thorough guide of some of the biggest trends we anticipate to see in 2021, featuring both new and old favourites.
Everything from impeccably-crafted classic settings, to atypical trends, to completely custom selections, the options at your disposal run the gambit. If this amount of choice is overwhelming, or you just want to see the stones sparkle in person, stop by our store for a more personalised consultation.
Solitaire Engagement Rings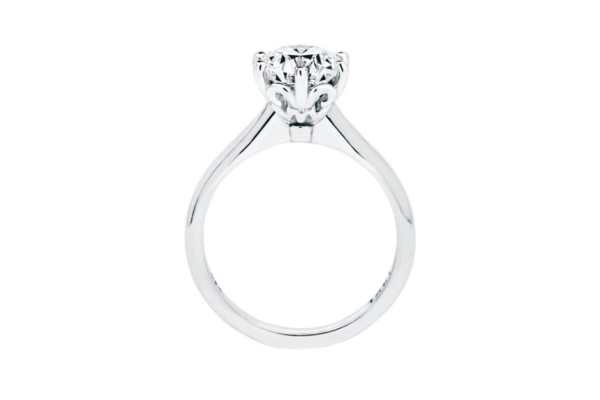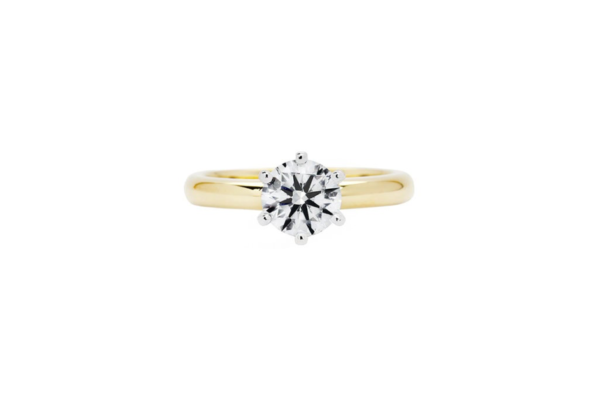 Solitaire engagement rings are the classic image of a beautiful diamond engagement ring that immediately comes to mind. A simple band, a single stone, a timeless setting. These rings are simple and beautiful and perfectly complement a variety of wedding bands. They are available in many variations, based on your selections for the following parameters:
Stone
Cut
Setting
Band style
Precious metal selection
Some of the most popular cuts for this style are the classic cushion cut and emerald cut, but a myriad of options are available to your liking. A solitaire style ring is perfect for any couple who wants the classic, picture-perfect engagement experience. With customisation options aplenty to ensure that she absolutely loves her brilliant new ring, there's a reason the solitaire choice has stood the test of time.
Side Stone Engagement Rings

A side stone engagement ring is the elevated older sibling of the solitaire option. Usually consisting of a single band with a single featured stone, the side stone title refers to the additional detailing of smaller diamonds or gemstones embedded into the band. In addition to all the standard customisation options of a solitaire ring, the stones embedded in the band can also be individually selected for colour, size, and setting. Some popular options for stone shape include the brilliant-cut and even the less common oval cut.
The side stone ring is perfect for the bride that doesn't believe any perfect diamond should have to shine alone, and for the engagement day that's filled with magic and sparkle.
Halo Engagement Rings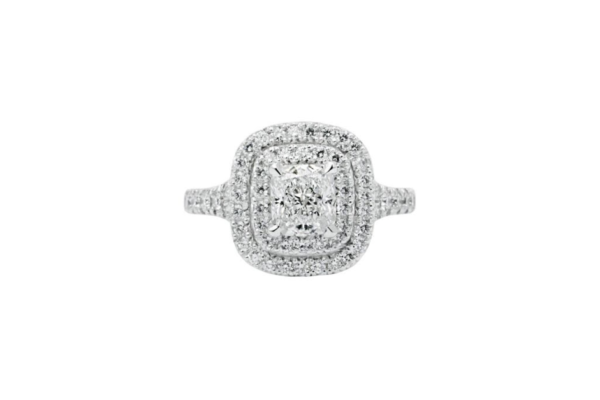 The halo engagement ring is the next customisation option above the side stone. Available with or without the gem-encrusted band, the halo ring features a circlet of smaller stones surrounding the centre stone. This ring design enables a smaller primary stone to appear larger through the addition of an extra layer of gemstones around it. The halo itself also adds a glittery effect to the overall ring, which can be accentuated by adding gems all the way around the ring band, and even a secondary halo surrounding the first.
Halo rings can come in a variety of settings and colours — depending on the stone selected — and the shimmer of so many delicate stones is unparalleled. The halo is perfect for an engagement filled with light and love, a complex but elegant choice for any couple.
Trilogy Engagement Rings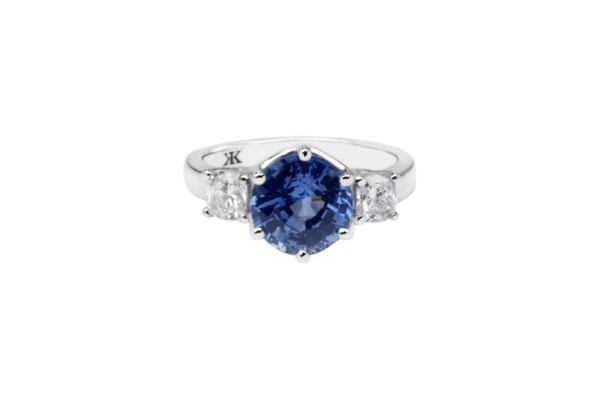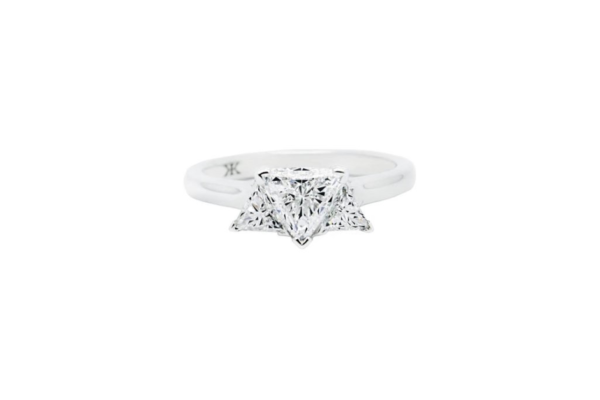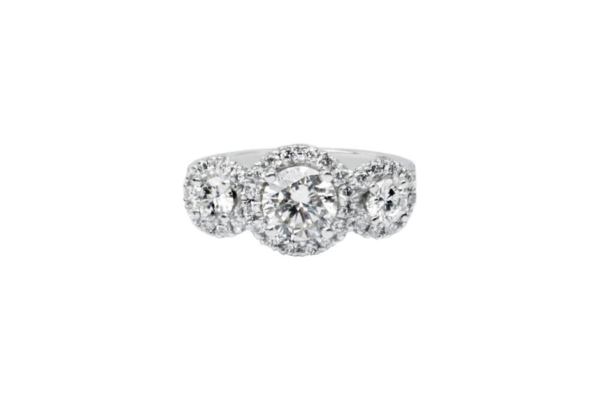 Three stone engagement rings, also known as trilogy rings, are an elevated and beautifully classic choice. They allow for all the same options as the solitaire ring and its variations but promote three primary stones instead of just the one. Historically, this style carried quite a lot of symbolism. The primary attribution is that it portrays the past, present, and future of the couple, a thoughtful reminder for her to keep with her, every day of your lives. It's also worth noting that the three stone ring has been highlighted in modern years as well. Meghan Markle's ring was trilogy style, giving this choice the royal seal of approval as well. The trilogy ring is for the bride who knows the three most important things in her life. It is an especially romantic choice, serving as a symbolic reminder of life's phases and love's primacy.
Vintage Engagement Rings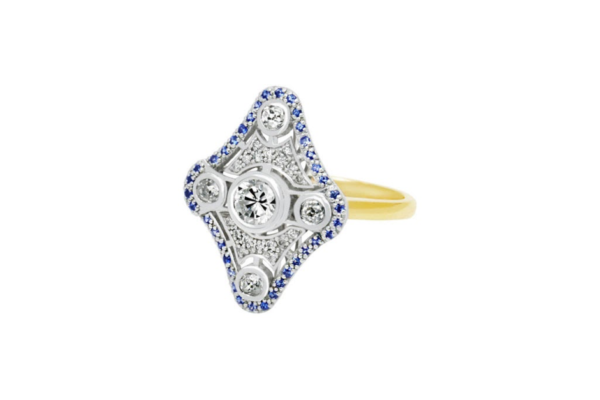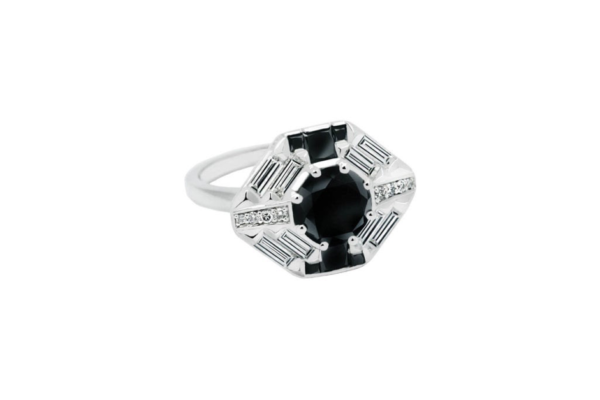 Vintage or antique-inspired engagement rings are a modern take of historical favourites. They travel back in time to any era and magnify the most exceptional and one-of-a-kind aspects of your personal taste. Vintage rings can take a variety of shapes and sizes and are particularly known for the use of coloured gemstones and statement styling. Their most unique feature is the option for filigree detailing, a type of delicate metalwork that enhances the craftsmanship and style of your selection.
Antique-inspired engagement or wedding rings draw from a variety of time periods, including but not limited to, the following:
Georgian
Victorian
Art Nouveau
Edwardian
Art Deco
Retro
If you already have a favourite era in mind, your design can be tailored to reflect it, or your preferences can be matched to a selection of options spanning all time periods.
The vintage ring is for the bride with refined taste, who knows what she wants. It's for the couple that stands the test of time, and an engagement day that treasures the past, promoting it to the centre-stage.
Custom Design Engagement Rings
Do none of the above options really catch your fancy? Perhaps what you're looking for is the custom engagement ring experience. The options for engagement ring customisation are nearly endless. You can choose from a selection of the following:
Loose diamonds of various sizes
A rainbow of coloured gemstones
Any number of stones embedded
Setting and cut to match the exact visual effect you're looking for, and
All band style options, including a unique two-tone selection
Expert jewellers will be at your side for every step of the process. Before the design specifications are finalised, you will have a high-quality, 3D-image proof of your final concept. Your approval is solicited at every step of the process, to ensure that the final product will be exactly the ring of her dreams.
The truly custom design is the test of a jeweller's mettle. A uniquely tailored ring with an impeccably-cut diamond will be the stunning centrepiece of the most unforgettable engagements and thrill any bride-to-be. Consult with the best in the business for a statement piece of jewellery she will never stop admiring.
Where Can I Buy Engagement Rings in Melbourne?
Are you in search of the best jewellery designers in downtown Melbourne? Well, look no further. Kaflin Jewellery is a second-generation jewellery boutique located on Collins St. right in Melbourne CBD.
Our expert gemologists specialise in all things engagement rings, with a particular skill for customisation, so that every customer leaves happy. All our stones are at least 0.30 carats and are certified by the GIA, or Gemological Institute of America.
Contact us or visit for a no-obligation consultation, and see why the best in Australian engagement rings are from Kaflin's diamond specialists.Trending Engagement Rings in 2021